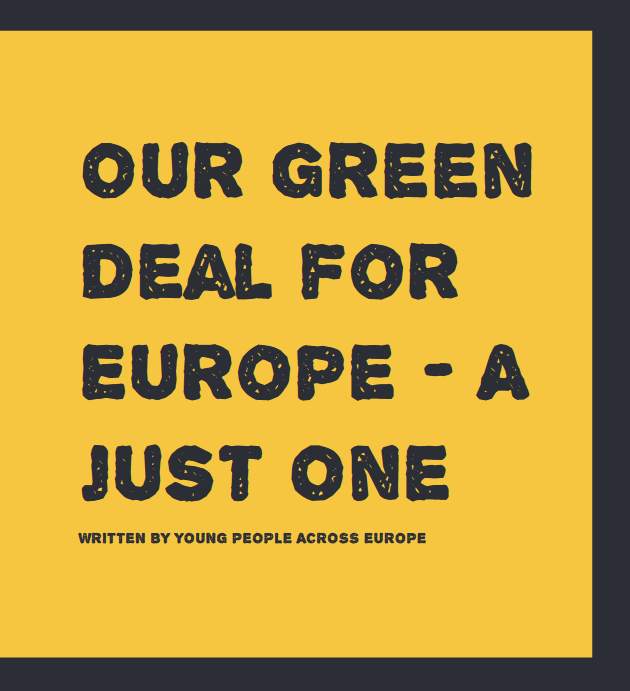 Young Friends of the Earth Europe is proud to present the result of the SYSTEM:RESET project: the youth proposal for a Green Deal for Europe.
You can read the full version here (PDF-EN)
This Youth Proposal for a Green Deal for Europe presents a narrative of the future we want and of the urgent intersectional transformation that is needed in our society. It presents young people's visions for a socially just and ecologically sound future and highlights the momentum for system change.
The world is currently at a tipping point, where we need bold measures and coordinated collective actions to build an equitable, sustainable, and socially just future that we all want to live in. The time for bold collective actions to build a better world for everyone is NOW!
For two years, we collected visions from 3300 young people with different backgrounds and identities across Europe. We focused specifically on engaging underrepresented young people, as they are often not included in decision-making processes that affect them.
The visions are divided according to thematic categories and formulated as priorities for the future, suggested solutions and actions, and policy recommendations. These are not universal, as all countries have different starting points and different steps they need to take in transforming their society. However, this Youth Proposal can serve as a roadmap for all stakeholders to change the system and create a European Green Deal that is built upon a future that European youth want. We have therefore included suggestions for what four stakeholder groups can do – policymakers, businesses, communities, and individuals.
We have also translated in 10 languages: Croatian, Danish, Estonian, German, Greek, Macedonian, Maltese, Russian, Spanish and Turkish. Below all the links to download them!
With young people from North Macedonia, we gladly contributed to the Youth Proposal for Green Deal to co-shape a vision for a socially just, environmentally friendly and climate-sustainable society by 2030. We made the voice of young people from our country heard to define the concrete short-term steps to begin reorganising the current political and economic system. We wanted to express ourselves to give a chance to the just future that we all want to live in. This proposal includes bold and specific policy recommendations based on principles of justice and equity for all, and demands for policymakers to not only do what is politically possible, but what is desperately needed!

Sofija Getova, Koletiv Z & Young Friends of the Earth Europe
Special thanks to all the contributors and especially everyone who supported on compiling the Youth Proposal, and specifically to Elin Bergstrøm; Kemal Cufoglu; Sofija Getova; Marija Poprizova; Ena Utevska; Thomas Mourey; Sara Mariza Vryonidi; Veerle Engel ; Raki Ap ; Sara Boraei; Josef Boraei.