From June 11 to 16, 2021, over 100 young people from all around Europe joined the hybrid convergence ERROR 404: [NAME] JUSTICE NOT FOUND to share their visions for a sustainable and just Europe. During six fruitful days, young people participated in activities to develop their own proposals for a European Green Deal and formulate concrete demands and goals for national and European policymakers.
The event was part of the SYSTEM:RESET project, which aims to develop platforms to engage underrepresented youth in decision-making and build strong, collective visions for a socially just and ecologically sound future. With the support of Young FoE national groups and enthusiastic co-organizers, ERROR 404: [NAME] JUSTICE NOT FOUND was able to gather youth from over 20 different countries with diverse backgrounds and identities.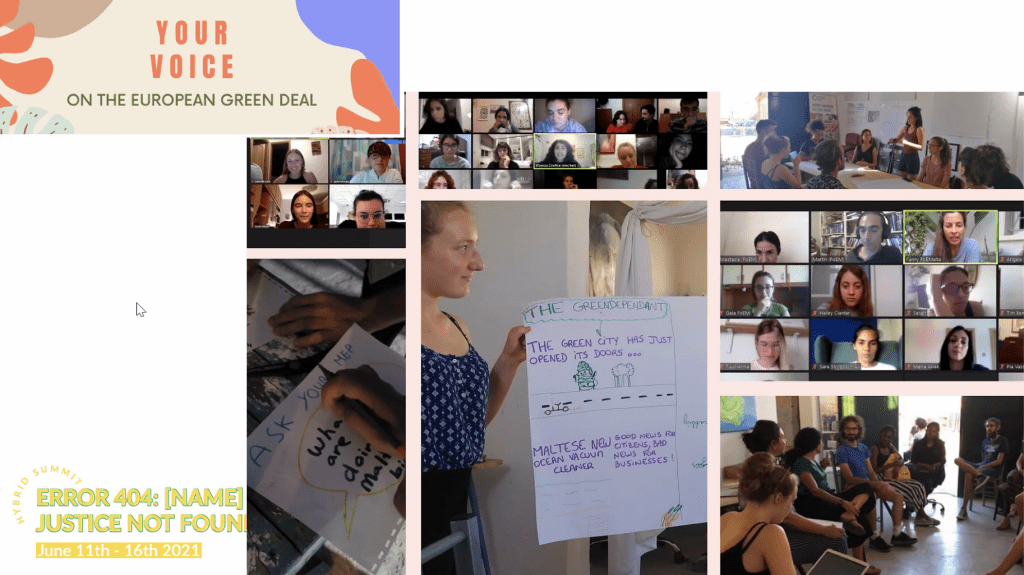 The event included six days of activities, ranging from introductions to the European Green Deal to virtual escape rooms and advocacy and communication trainings. Although all activities were organized online, small physical hubs were set up in several European cities, so that young people (finally) could meet up in their local area and participate in the event together. A central focus of the gathering was to collect young people's visions for key areas within the European Green Deal, including
Climate
Intersectionality
Biodiversity
Food
Mobility
Energy
Inspiring and thought-provoking speakers helped to frame the topics and supported the collection of bold visions and demands for change. On the last day, participants got the opportunity to meet with Members of the European Parliament (MEPs) to discuss their visions and demands.
Young people enthusiastically shared their visions for a more sustainable and just Europe and discussed how they might translate into a new European Green New Deal. Some examples of visions shared include:
An ethical renewable energy system that does not reproduce colonial systems
A society that takes into account systems of exclusion and exploitation
A greener, cleaner, and more sustainable world
Redesigned waste systems
Fewer cars.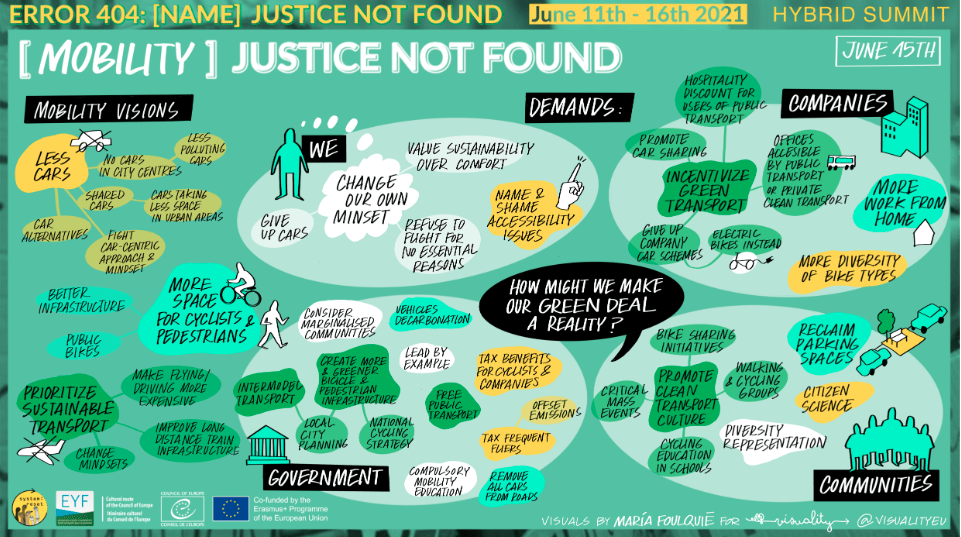 All input gathered at the event will feed into a shared European youth proposal for a Green Deal, developed as part of the SYSTEM:RESET project. The proposal will be communicated to key national European stakeholders and decision-makers and disseminated at upcoming political events, including COP26 in Glasgow. YFoEE will use the youth proposal to continue raising awareness of youth's visions for a just and sustainable Europe and encourage policymakers to act on the solutions and demands proposed by youth.
YFoEE would like to extend a big thank you to the following co-organizers, without whom the event would not have been possible: Advaya, Amigos de la Tierra, BUNDjugend NRW, CAN Europe, EcoResolution, Eesti Roheline Liikumine, Equinox: Initiative for Racial Justice, European Coordination via Campesina, European Cyclist Federation, Food & Water Action Europe, Friends of the Earth Cyprus, Friends of the Earth Ireland, Friends of the Earth Malta, Gastivists, GLOBAL 2000, Kolektiv-Z, Right to Energy, Smartup – social innovation lab, Ulex Project, Ungdom NOAH, Union of Justice, Yes to Life, No to Mining, Young Friends of the Earth Europe, Zelena Akcija / FoE Croatia.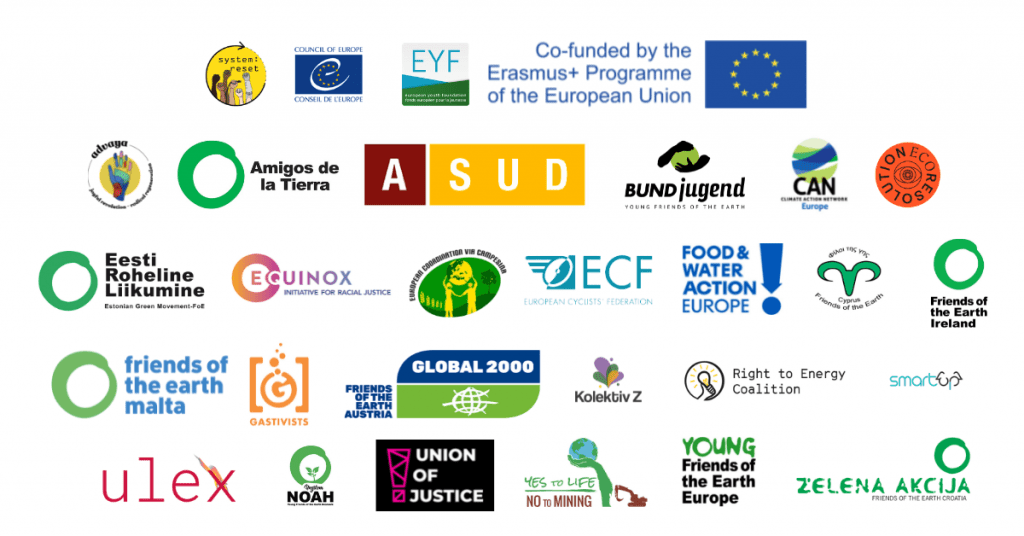 The event was organized by the European project SYSTEM:RESET and co-funded by the Erasmus+ programme of the European Union and the European Youth Foundation of the Council of Europe.