Glasgow, 30th of October 2021 – 14th of November, 2021. On behalf of young people across Europe, Young Friends of the Earth Europe participated at the UNFCCC COP26 as part of the System Reset Project to demand intersectional system change and highlight young people's visions for a socially just and ecologically sound future.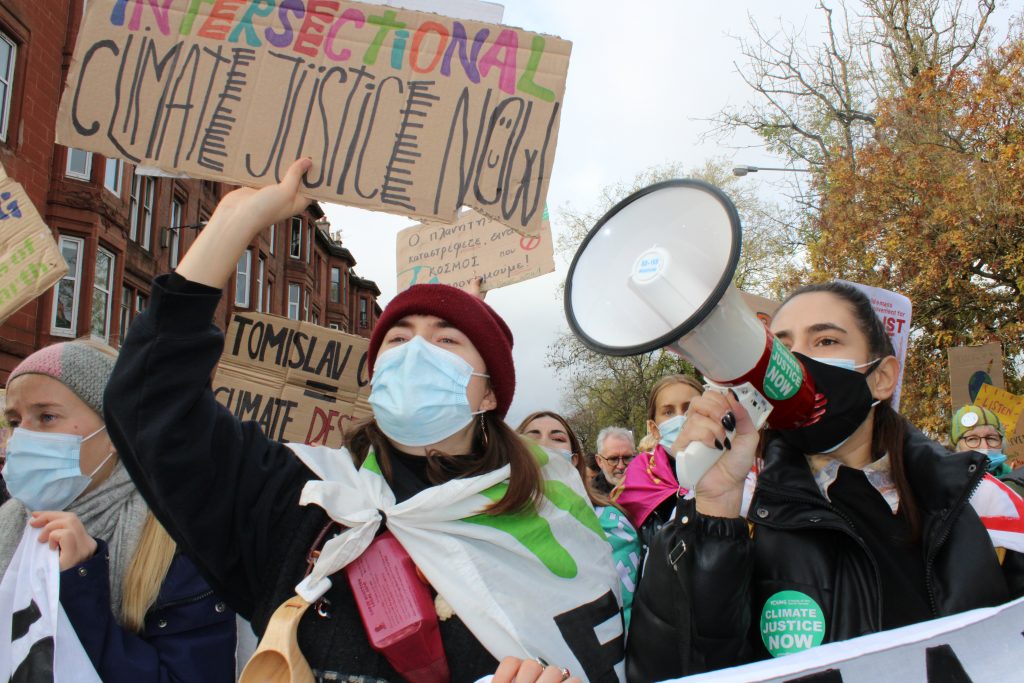 8 young activist across Europe came together after two – challenging – years and traveled in Glasgow to participate at COP26 – the most exclusionary COP ever – to meet the international community as well as to each out policy makers to demand a future that we – the youth – want to see.
Two weeks in Glasgow were not an easy task to do, considering the COVID-19 pandemic restrictions, visa requirements, badges to enter COP26 premises and that many people did not make it to the COP26 as a result of vaccine apartheid and the racist respond on visa requirements by the UK government. Despite all the challenges, 8 young activists managed to be there and have been fighting for #justice, for #climate and #social justice together with the rest of Friends of the Earth International Federation who had a delegation of 50 people from approximately 25 countries.
Young Friends of the Earth Europe was inside and outside #COP26 following discussions, running sessions, doing actions, participating in actions and showing solidarity with local communities and those who were excluded from this space.
Briefly, our reflection is that the #COP was:
Exclusionary as most people impacted by climate crisis have been prevented to access it due to vaccine apartheid and UK visas requirements. And for those who made it to Glasgow, participation was difficult by experiencing racism.
A failure on carbon markets, net zero and nature based solutions.

Carbon markets mean risks to increase emissions, with the EU not actively opposing it.
Net zero allows the global north to keep polluting for decades with offsets and technofixes without fair share.
Nature based solutions will lead to land grabs, food insecurity and rights violations for the people in the global south – who are already affected by climate crisis.

Does not keep 1.5°C alive as the rich countries do not commit on equity, fair share and historical responsibilities and especially on climate finances for the already promised $100 billion in Copenhagen, for loss and damage or adaptation.
Hypocritical as actions are not taken immediately but rather spending another period of empty words.
What's next
People power with truly just solutions for a #SystemReset
We ain't give up and we ain't compromise on climate and social justice and the hope lies with us, the people, young people and all the currently under represented identities and communities.
We need to keep organizing and coming together, building strong coalitions who are truly inclusive and intersectional.
The fight goes on! See you on the streets!
#SystemResetProjet#YFoEE#systemchange#ClimateJustice#SocialJusticeForAll#intersectionalfeminism#COP26