Judith Neumann, Young FoE Austria
In this blog I would share my experiences as workshop leader within the Erasmus+ project System: Reset at the 2021 Climate Camp in Vienna

I have been part of the Austrian System:Reset team since June 2020 and have co-organized a total of nine workshops. Most of the time, we design the workshops in teams of four and as a two-day intensive workshop. All workshops have taken place online due to the COVID-19 pandemic. The online format is a possibility for participation e.g. people from all over the world could participate in the Climate Camp as they didn't have to be in Vienna during the event. At this year's Climate Camp, Anna and I held an online three-hour visioning workshop. The content included intersectionality, reflection of one's own privileges, power structures that (re-)produce social inequalities and social underrepresentation with regard to the climate crisis, and, above all, collection of visions for a more social and climate-fair world!
This time we also collected collective visions for a social-ecological transformation together with the participants. In the context of the climate camps, which are seen as the heart of the climate justice movement, it was important for me personally that it was not only about "green" demands alone, but, above all, about the connection of social and ecological struggles. Using the method of the so-called "power flower" (see picture below), workshop participants first reflected on their own social positioning, so that visions that included anti-discrimination aspects could be developed in the fight against the climate crisis. Through exchange with other, like-minded people, these demands for climate justice can be concretized and strategies for their implementation can be discussed!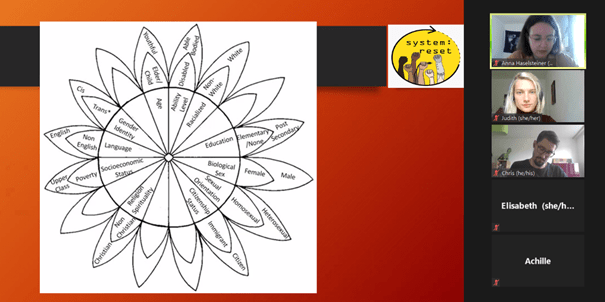 I was personally involved in this year's climate camp in other ways and I also knew the content of some of the other workshops and actions. I would therefore like to conclude that our workshop, which took place on the last day of the climate camp, was in relation to previous discussions and workshops and a good rounding off of the climate camp week that took place. After this intense time, I am left with a very encouraging mood and a connection with the many people who are joining forces to fight together for profound changes in times of crises!