While the European Union is making honest efforts, through the European Green Deal, by defining the framework for a just and green transition to a climate-neutral society and economy, Cyprus remains indifferent. The recent discussions on the budget in the House of Representatives highlights in the most unpleasant way the lack of awareness of state officials of the urgent need to take action to address the climate crisis, which is already being experienced in our island. The persistence in the construction of new roads, maintenance of polluting transportation, reliance on fossil fuels, dependence of energy security on natural gas, low ambitions in renewable energy sources (RES) and many other anti-environmental policies are just a few features that make up the government's plan for the coming years.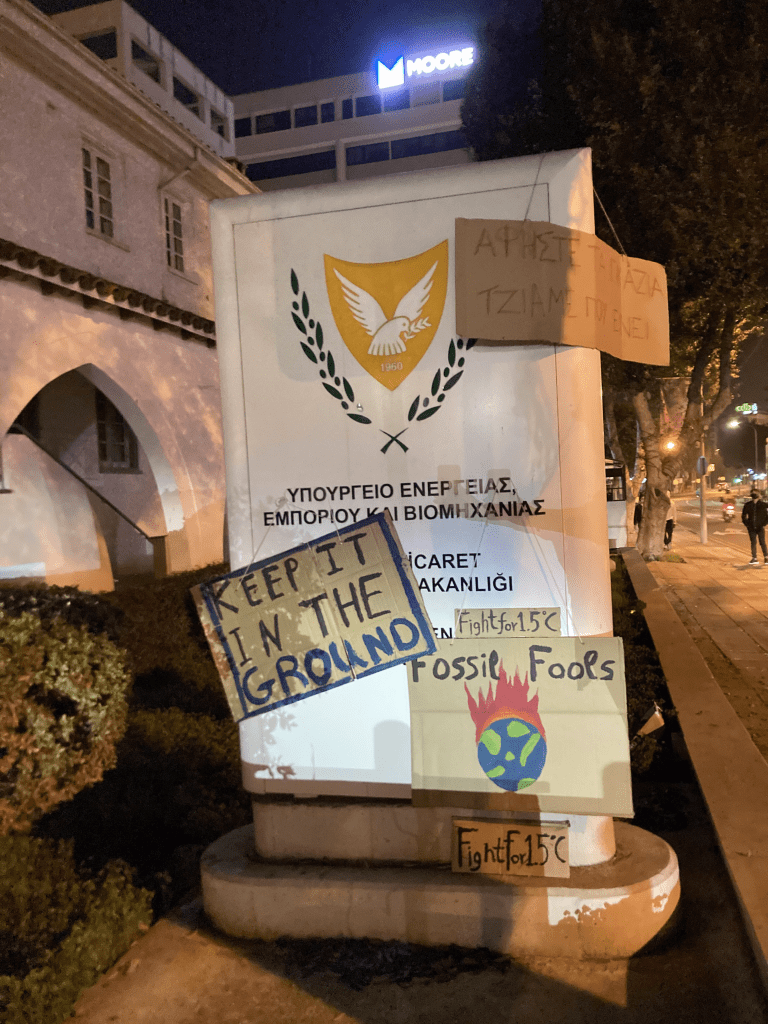 Although the EU Green Deal is not as ambitious as necessary to achieve the goal set in the Paris Agreement, to keep global warming below 1.5 ° C, Cyprus is unable to even comply with that. Unfortunately, few of the government's national strategies that are announced from time to time, are transformed into effective actions to deal with the environmental crisis. On the occasion of this inaction, Young Friends of the Earth Cyprus made an artistic intervention outside the Presidential Palace, the House of Representatives and all the responsible Ministries. The members of the organisation posted placards with messages of encouragement for action but also dissatisfaction with the inaction of the state, regarding the response to climate change.
Young Friends of the Earth Cyprus is the youth group of Friends of the Earth Cyprus, an environmental, non-governmental and non-profit, organisation which is a member of the European and International network. The organisation was founded in 1980 and since then is campaigning on a number of local, national, regional (Mediterranean and European) and global environmental problems. Its aim is to protect the environment, by promoting ecologically sustainable and socially just solutions. It is an activist organisation aiming to protect the beauty of our island and the well-being of future generations, living in harmony with nature in a sustainable and just society.