Continuing with its long tradition of agri-activism, Young FoEE is looking for two volunteers to be active in a beautiful, community-supported organic farm in Wales.
Agri-activism programme
We are looking for 2 volunteers to help support and develop the work at Caerhys Organic Farm in 2022 , from March-April to October-November.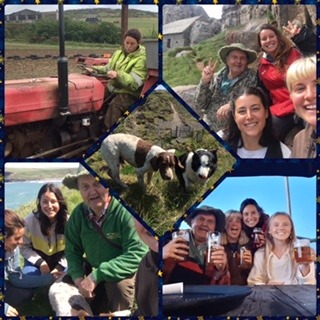 But this isn't ordinary WWOOFing as this is in one of the farms of the Caerhys Organic Community Agriculture (COCA), a community-supported agriculture scheme based near St Davids, Pembrokeshire, Wales. And in particular, the farm of Gerald Miles, a prominent campaigner who has been at the heart of the anti-GM movement in the UK for decades!
It is the chance for the volunteers to develop their own ideas and implement their own personal projects and activities. The members of COCA will make relevant training and development opportunities available where applicable. Therefore, the role of the volunteers at Caerhys farm will largely depend on the motivation and personal objectives of the volunteer.
However, the following areas will always be part of the volunteers' role:
Farming: Growing, planting, transplanting and planning community growing.
Promotion: Social media, website content, getting involved and meeting with local community to raise awareness and promote the work of COCA.
Events: planning various local events, e.g. annual harvest party.
Distribution: delivering fruits and vegetables boxes to drop of points
Membership: Planning volunteering days and working on good relationship with members.
The volunteers will work 35 hours per week and will receive at least 2 days holiday per month. As well as this, they will have two consecutive days off each week (usually a weekend). If for any reason, the volunteers work these days they will be offered two different days off in the week to make up the time.
About the hosting organisation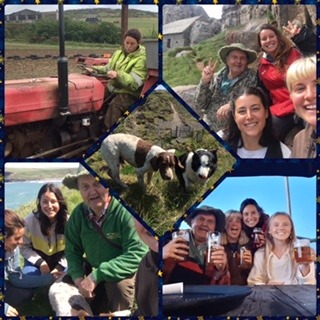 Caerhys Organic Community Agriculture (COCA) is a community supported agriculture scheme based near St Davids, Pembrokeshire, Wales. COCA consists
of around 50 household members who work together to grow their own vegetables, salads and soft fruits and support a local farmer by sharing the risks
and rewards together. COCA aims to educate people in sustainable food production and to promote organic food and community supported agriculture.
COCA is part of a growing movement called community supported agriculture (CSA). COCA's objectives are as follows:
Produce and enable wider access to local food
Enable members to live well and eat well in an organic and sustainable way
Support sustainable food production in the local area
Grow a community around the project based on shared work, social activity and a spirit of friendship.
COCA is a community based scheme and all members do work together on a voluntary basis to obtain the organisation's objectives. Besides the local
volunteers who are helping on the farm on a weekly basis, COCA has been working with international volunteers for more than 5 years. The volunteers
play an important role in the work of COCA and in the day to day work at the farm.
Motivation
We are looking for two volunteers with an interest in environment, agriculture, horticulture, community work, and community growing. Experience of working on a farm may be useful but is not mandatory. The projects hosted by COCA is open to all young people aged 18 – 30, regardless of background, competences and experience.
Volunteers ideally will:
Have an interest in environment, agriculture, horticulture, community work and community growing
Have experienced work with and/ or have an interest in working in a community based agriculture scheme
Can communicate in English and a commitment to improving their English (to be able to get the most from the placement)
Be flexible and adaptable to change
Be reliable
Have a willingness to develop projects and pieces of work according to interests.
Practical conditions
The volunteers will live in a static mobile home on Caerhys Organic Farm. Each of them will have their own separate bedroom but will share kitchen, bathroom
and sitting room. The static mobile home is in good condition and has been used as accommodation throughout the year for previous international volunteers. This will allow volunteers to share an experience with young people from different countries. The accommodation is on site and close to the farm house where the supervisor and mentor are living. The bus stop is about 500 metres up the road to catch buses going into the city of St. Davids (only 3 buses run every day).
Things you should know
Because the farm is very remote/ isolated, the volunteer should be interested and motivated in living in a beautiful but remote area of West Wales. The living conditions of this project are VERY BASIC.
There is limited INTERNET on the farm and very bad signal.
Application and recruitlent process
TO APPLY COMPLETE THIS ONLINE FORM
Application deadline is the 31 of March 2022.
The selected applicants will be contacted directly by Young FoEE and/or COCA.
Travel arrangements, visa requests, exact working conditions, etc. will be defined together with the selected applicants.
The project will run tentatively from March-April to October-November 2022. Please make sure you are available to dedicate this time period to volunteering in Wales.