Start date: 14 July 2022

End date: 17 July 2022

Brussels, Belgium
The upcoming Young FoEE event is a Network gathering and capacity-building event, happening from the 14th to the 17th of July 2022 in Brussels.
We will have training for organizers on climate justice, intersectionality and the CAP from which we will create campaigns for local or international contexts and together create a Volunteers Program for the YFoEE network.
We encourage participants to take part in the upcoming online trainings and skill-share sessions following the event and to participate in the upcoming YFoEE Summer Camp 2022, from 31st of August to 4th of September!
To register please complete the application form on this link: https://www.eventbrite.com/e/372635882957
The event agenda for our event is the following: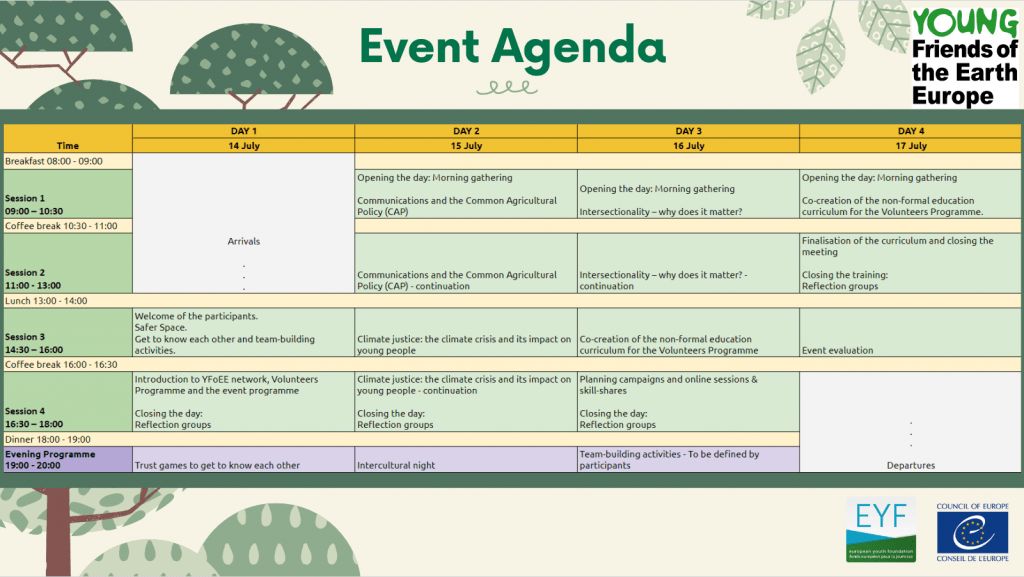 Should you have any questions or requests regarding the gathering, feel free to contact us at youngfoe[at]foeeurope.org.
➡️ This event is supported by the European Youth Foundation of the Council of Europe, a unique foundation supporting activities developed with, for and by young people.