Our network is coordinated by the Young Friends of the Earth Europe Steering Group, a group of volunteers elected during the Annual Network Gathering (our key decision-making event). Together the steering group are responsible for managing the ongoing work and development of Young FoEE, including long-term campaign strategies and goals. In addition, each member is responsible for a different area of work and supporting member groups in our network.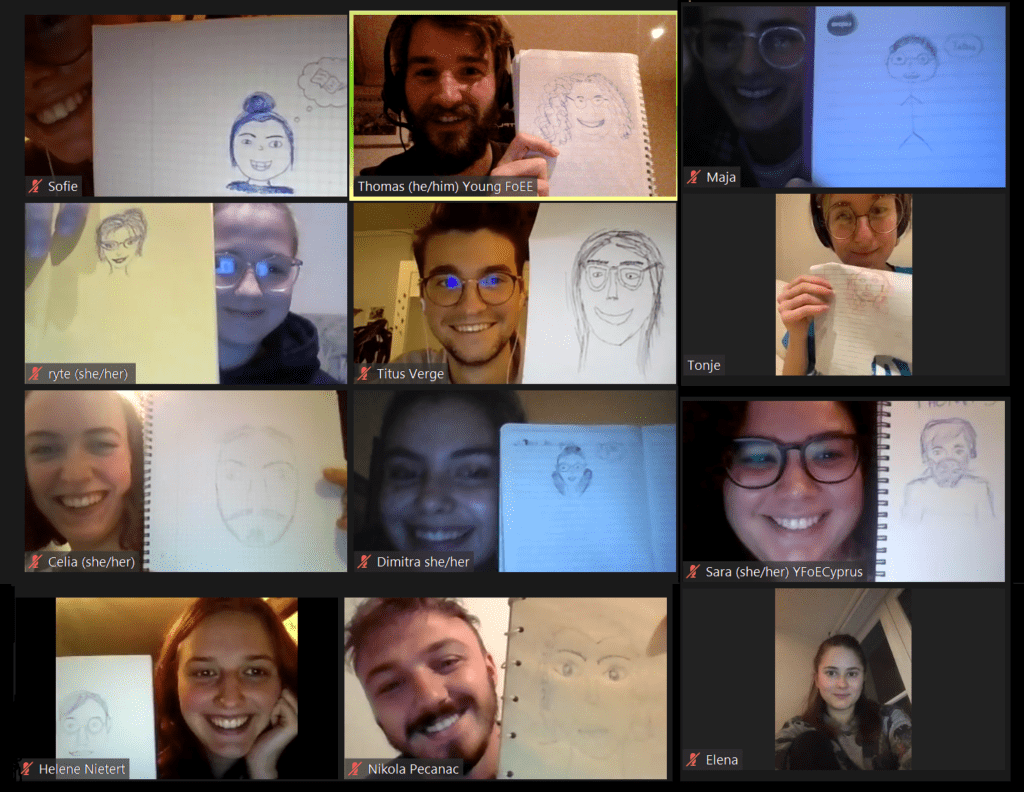 Full Steering Group Members:
I've been a member of Mladi za Zemiata (Young Friends of the Earth Bulgaria) since 2015 and a member of Young Friends of the Earth Europe since 2016.
I joined the Steering Group because I am very passionate about YFOEE and the important work we do, and I would like to help the network as much as I can. At the same time, I would benefit by gaining new skills. I will be engaging with the Communication team, the Campaigning team and the Network team.
I am an actress, performer and theatre-maker. I just completed my Masters in Drama at the University of South Wales.
Fun fact: My alter ego is a pirate. Ahoy!
Recomendation: The film Oil for Nothing
I was born and raised by the Alps in Carinthia, but now, I live in Vienna.
I´m studying Environment and Bio-resource management.
I´ve joined the Team Aktiv from Global2000 (FoE Austria) volunteer group in 2016 and I wanted to connect the Global2000 activists with the YFoEE network because I believe if we work together we will have more impact.
I will be engaging with the Campaigning team and the Network team.
Fun fact: You can often find some origami boats on me, since I turn into a child almost every time when there is loose paper, I can't help but fold a boat out of it!
Recommendation: 'How Do You Raise A Feminist Daughter?' Chimamanda Adichie 'Untenrum frei' Magarete Stokowski, and 'Handeln statt hoffen' Carola Rakete
I am 23 years old and consider myself an activist for 'only' 3 years now. When I moved to a new city for studying social and media science I met new great people and they opened my eyes for all the environmental and social problems in the world. So I started to get active and can't stop now!
What I would like to do as a job after studying is speaking for and representing a network. With that I can combine my skill set and my interests and meanwhile support and push good ideas and initiatives. And that's also what I love about my work in the Steering Group that I started in 2019: I can practice what I want to do in the future together with wonderful people in a wide-spread network of activists that I can learn from!
Fun fact: I once held a five-minute monologue about ships in a theatre play. So if you want to know anything about that topic I am happy to help!
Recommendation: the movie Radical Resilience.
Nikola, 26, Bosnia and Herzegovina
I've been a member of Young Friends of the Earth Europe from 2020.
I joined the Steering Group because I wanted to change something and to get more involved. I am that type of person who wants to see activism in action. And YFoEE is the best place to be. I will be engaging with the Communication team, the Campaigning team.
I am currently finishing my Masters studies, at Forestry faculty, University of Banja Luka.
Fun fact: I am a forester and amateur fashion designer. From 2018 I found out I am good at photography and designing. If you are interested to check my work,  contact me!
Recomendation: Pick up the trash and plant trees, can that be "new normal"?
As a member of Young FoE in my country, I am involved in co-organizing the first ever Festival Y?! for activists and organizations in the Baltics.
As part of the Steering Group, I hope to understand how the network functions from within, to learn from others and to meet new people (of course!)
I am studying Political Science in Amsterdam while working in a local newspaper in Klaipeda, Lithuania (for now, at least) and staying a full time activist while establishing our Festival Y?! collective in the Baltics context.
Fun fact!: the last 26 years felt like one crazy situation (in a good way though!)
A good recommendation for the confinement: Just don't forget the feminist authors!

I've been a volunteer at Young Friends of the Earth Cyprus since 2016. I joined the steering group because I wanted to be part of a bigger community, help the movement of climate and social justice as much as I can, and improve or learn new skills.
I'm part of the network, campaigning, and intersectionality team.
I'm an architect and urban designer.
Fun fact: When I was a kid I wanted to work at a gas station!
Recommendation: Girl, woman, other by Bernardine Evaristo
I'm a new member of the Young Friends of the Earth organization and have already been a member of Natur og Ungdom (Young Friends of the Earth Norway) for a little while now.
I joined the Steering Group because I believe in the organization's work and want to contribute.
Here, I'm excited to work with the FUNdraising and Communication teams to ensure that we have the means to keep engaging young people and our allies from all over Europe in our climate activism!
Outside of YFoEE, I work as a research assistant and I study economics and political science at the Norwegian University of Science and Technology.
Fun fact: I can touch the tip of my nose with my tongue + my mom thinks I do a "fantastic" Donald Duck impression. Very cool, I know.
Recommendation: go outside & enjoy your life! (but remember a mask)
I am a new member of Friends of the Earth since I joined the Belgian group in 2020 ! It is really exciting to work with my fellow companions from all over Europe on the environmental issues that are so important.
With our enthusiasm and experiences, I hope that we will achieve nice projects all together.
I joined the Communication team, the Network team and the Campaigning team.
Fun fact: As a big fan of sport, I support the local football club in Nice where I was born. Before I moved to Brussels, I used to go to every game singing and screaming to support my team !
Alternate members:

I have been a member of BUNDjugend (Young Friends of the Earth Germany) since 2014 and joined Young Friends of the Earth Europe the same year. In the past, I have mainly been working on the topics of climate justice and fossil fuel resistance. I am really excited to be a part of the Steering Group this year and to hopefully give something back to the network that has given me so many important insights and amazing experiences over the years!
I will be working with the Network, Campaigning and Legal Formation team.
About a year ago, I received my Master's degree in Global Environment, Politics and Society from the University of Edinburgh and am now working at the BUNDjugend national office on food and agriculture.
Fun fact: During my time in Scotland, I did an extensive study of all the British sweets and Tunnocks Tea Cakes came out as my definite number one!
Recommendation: Lola Olufemi – Feminism, Interrupted: Disrupting Power
Maja, 25, Bosnia and Herzegovina
I am an activist at the Center for Environment/Friends of the Earth Bosnia and Herzegovina since 2019.
I joined the Steering Group because I want to educate myself more about Climate justice. I will be engaging with the Campaigning team.
I am a biologist, interested in ornithology and birdwatching and hoping to get a Masters degree in Molecular Biology.
My recommendation: Podcast: Science for the People; interesting and educational, covering a vast variety of subjects.
I've been a member of Young Friends of the Earth Norway for as long as I can remember and a member of Friends of the Earth Norway for the last few months.
I joined the Steering Group because I would like to have a more international focus on environmentalism and get a different input.
I'll work hard in the Campaign, FUNdraising and Communications group.
I'm a student in many fields with a few degrees already. I work with children during the day and procrastinate on my studies in the evening.
Fun fact: I've won a championship in curling. First and last time (so far) I've ever played it.
Recommendation: Make a habit of picking trash when you see it outdoors. If it's on the ground it'll end up in the ocean if no one takes responsibility.