Austria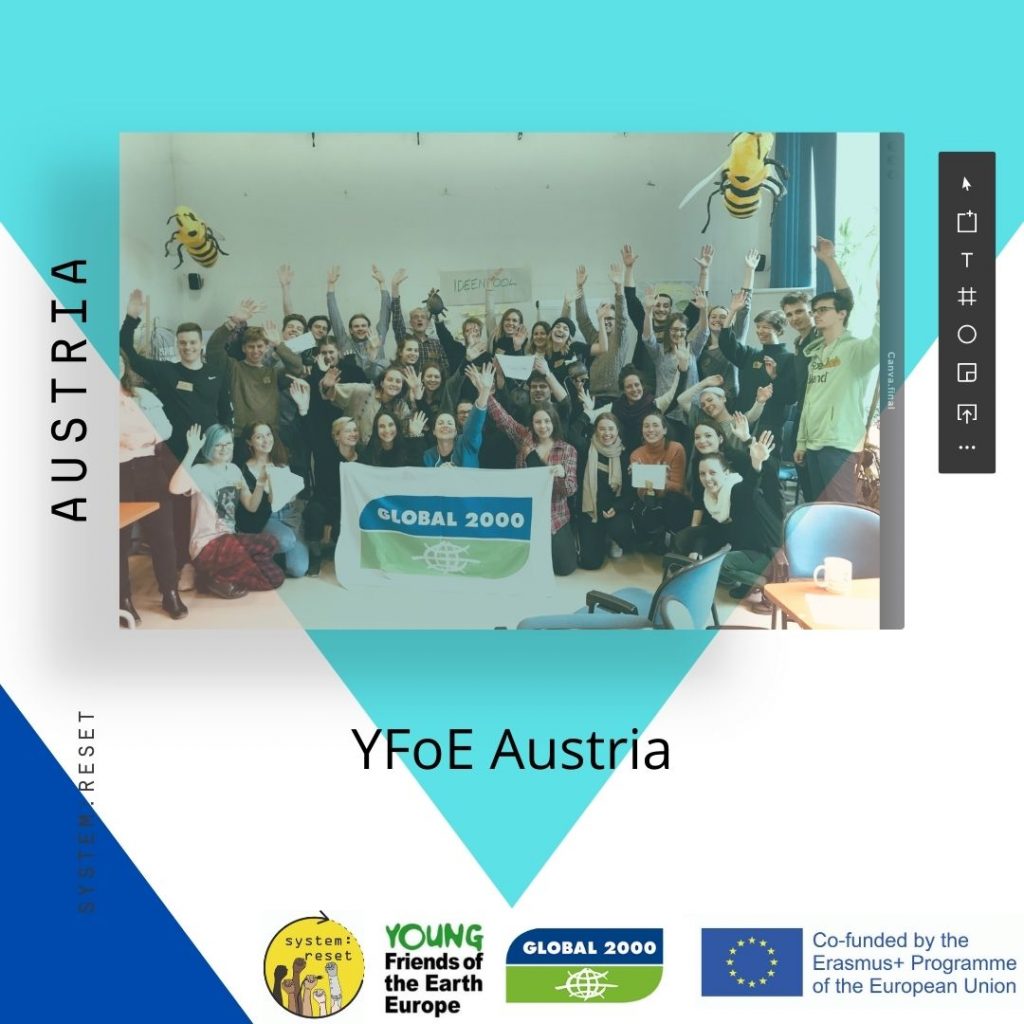 Since 1982, they have been working on controversial social themes to uncover potential hazards for humans and the environment. GLOBAL 2000 closely monitors the development of environmental policy in Austria and is committed to ecological fairness and a future worth living both locally and around the globe. Alongside creating public pressure through activism, lobbying and releasing information, education is a major aspect of our work.
They see education for sustainable development as an important step toward a sustainable future. In their educational work global challenges are critically reflected and together ways of being active are explored. The aim of their educational work is to empower (young) people to get active for a sustainable future. From school workshops for children to our volunteer groups that co-design campaigns, they offer a wide range of programs for different target groups and work with methods from education for sustainable development, popular, environmental and transformative education.
Their activists Marlene, Judith, Nehir and Anna are GLOBAL 2000 volunteers who have committed to work on the System:Reset project. They are students of social and ecological sciences. All of them participated in their Environmental Cultural Program (ECP) – an innovative, interdisciplinary traineeship. They are supported by Joschka, who works as an activist coordinator for GLOBAL 2000 and represents the organisation in the broad austrian climate protest coalition
Thanks to the YFoEE #SystemResetProject they can create youth hubs that will complement our already existing educational work. Furthermore the hubs will help them to connect their volunteers with activists from grassroots groups and different movements. Their efforts will culminate in the regional youth forum in 2021, in which we will invite groups and individuals from different countries across our region. They are willing to use this joint power, to envision a diverse Europe that recognises the current ecological problems as well as current social struggles.
Croatia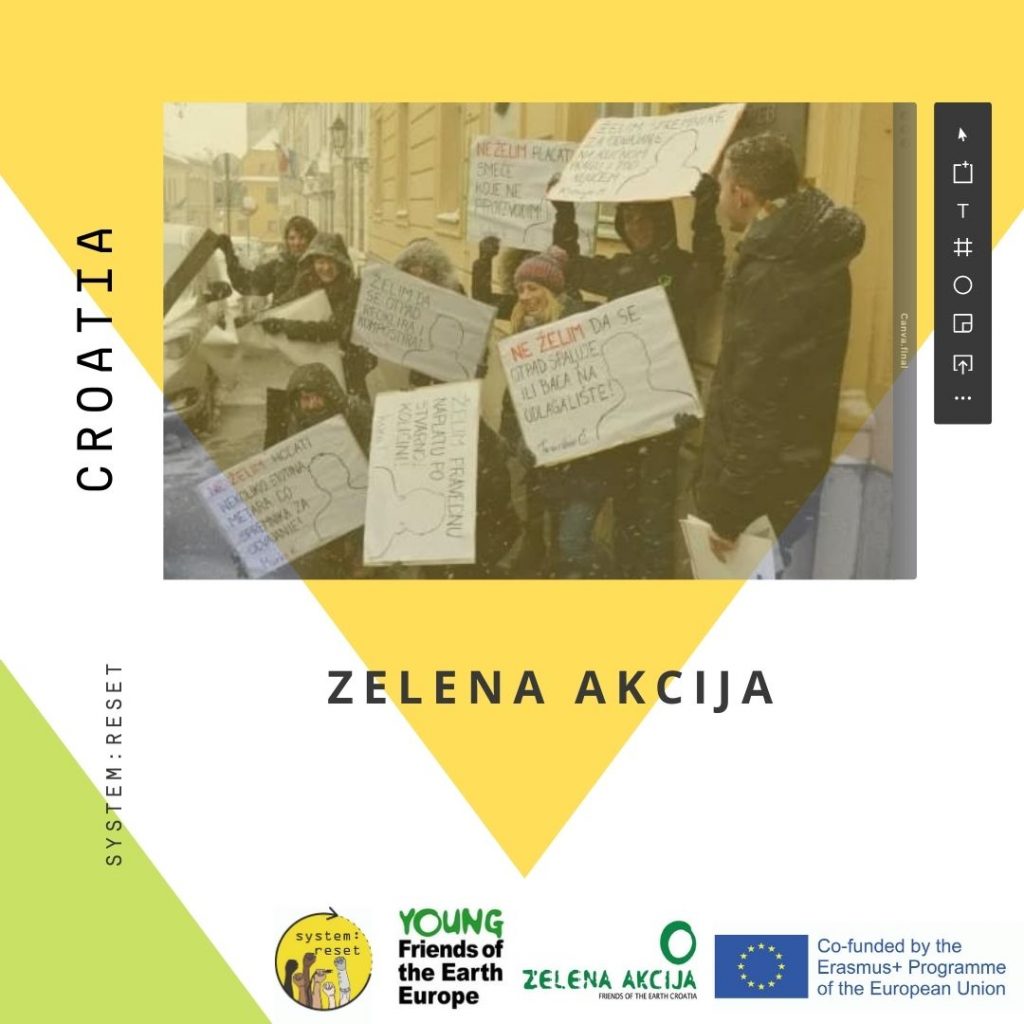 For almost 30 years, the Young Friends of the Earth Croatia has supported the campaigns of
Zelena Akcija/Friends of the Earth Croatia while simultaneously developing independent projects such as Environmental film festival Okolišni filmski festival as well as trainings and educational activities for youth and (future) activists.
One very specific mission is empowering (young) activists and support in establishing activist groups all around Croatia as part of intersectional movement building.
We provide educational opportunities for their activists and many of them are trained to be trainers, working with many different groups!
Cyprus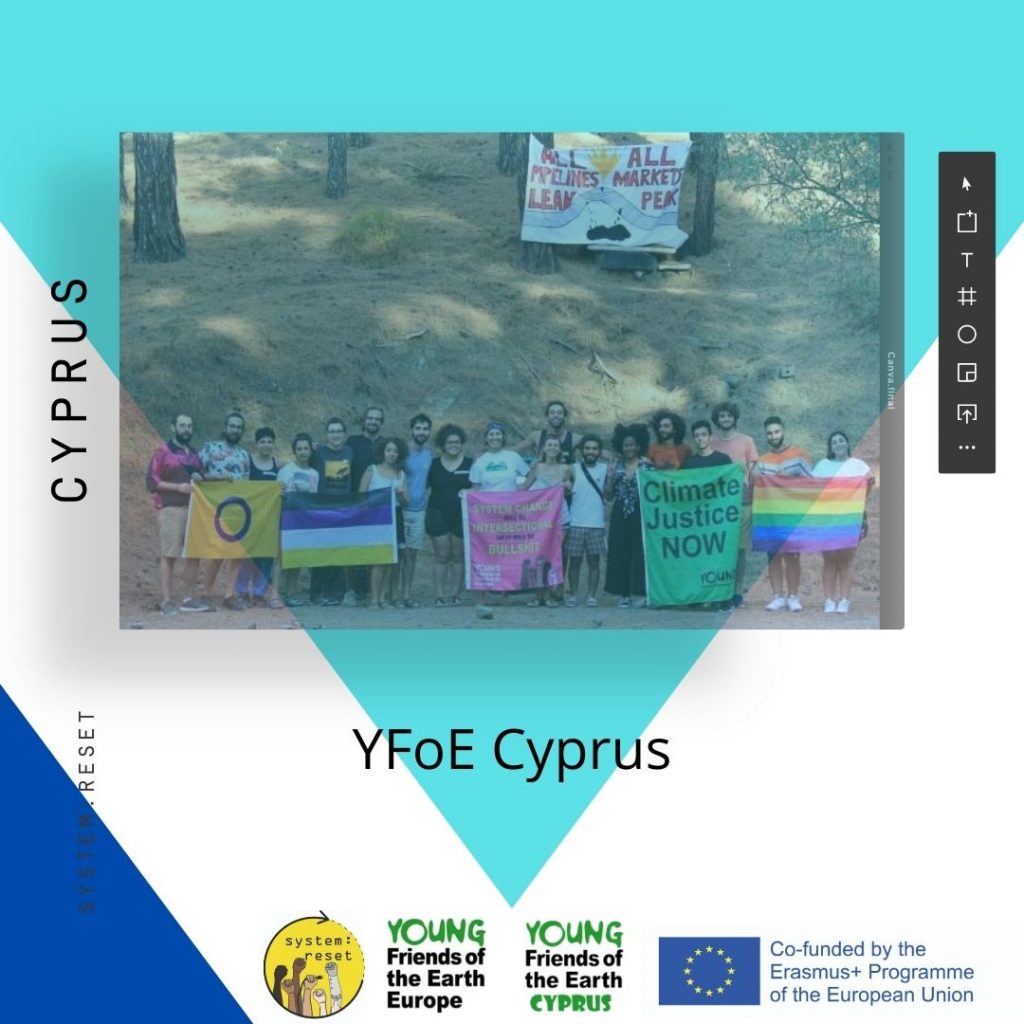 Young Friends of the Earth Cyprus is the youth group of Friends of the Earth Cyprus and it was established in 2008!
We are currently running campaigns on clean energy, food sovereignty, food waste, climate justice, intersectionality and zero-waste.
We are also implementing our System:Reset project along with a campaign against the exploitation and use of fossil fuels and in favour of renewable energy.
These campaigns are focusing even further on climate and environmental justice, engaging and empowering young people and increasing public awareness on these issues.
What does #SystemResetProject means in a national context? Well, it aims to collect visions from youth in Cyprus, by including and empowering their voices under the framework of the European Green Deal.
It is clear that climate emergency and social injustices are connected, thus this is one struggle and there the urgency of taking actions towards an intersectional future by tackling systemic oppression.
Denmark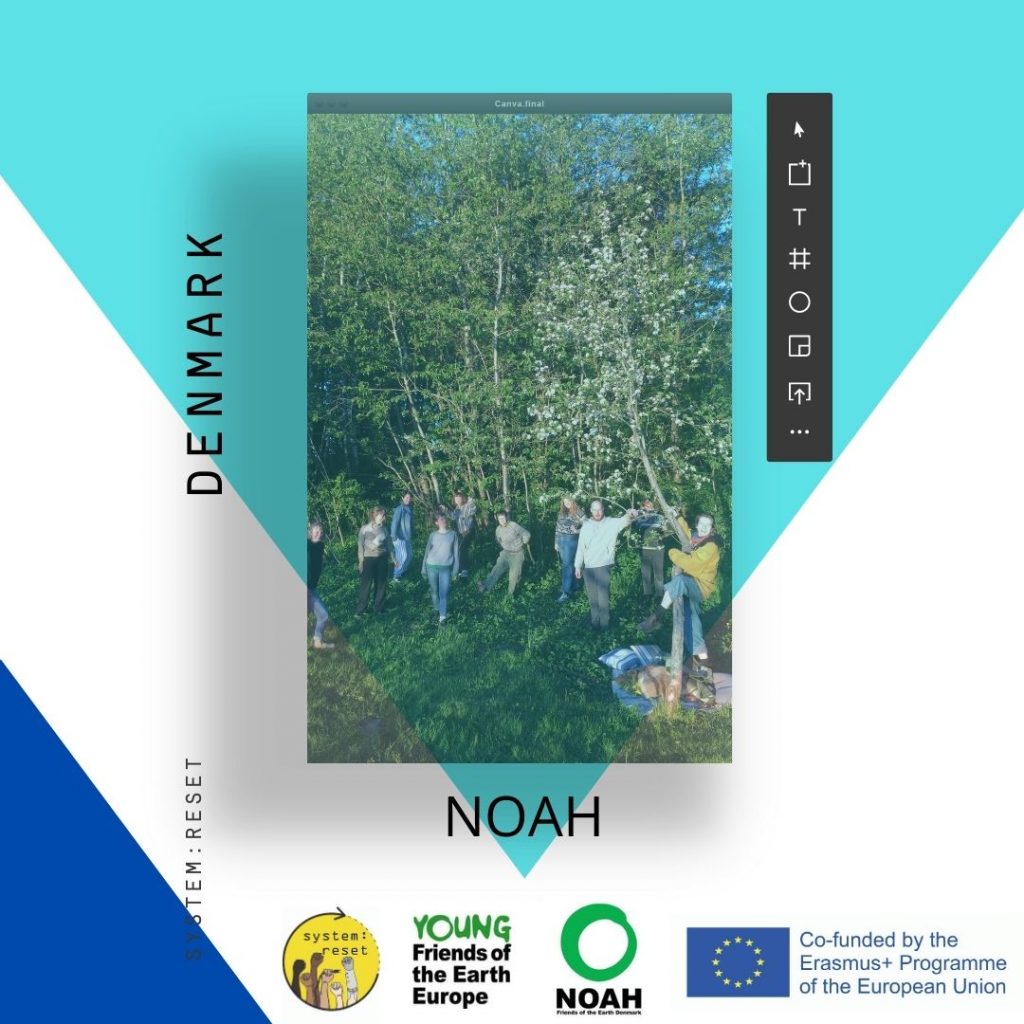 Our Danish partners are a collaboration between Ungdom NOAH/Young Friends of the Earth Denmark and NOAH/Friends of the Earth Denmark. NOAH was founded back in 1969 and Ungdom NOAH was founded in 2016.
The two groups have different target groups and ways of working, but together they form a strong coalition for the System:Reset project , with both the administrative, coordinating and financial experience of NOAH and the creativity, curiosity, network and energy of Ungdom NOAH.
This is the first time that NOAH and Ungdom NOAH do a project together on #intersectionality, and as they said they are so excited!
Estonia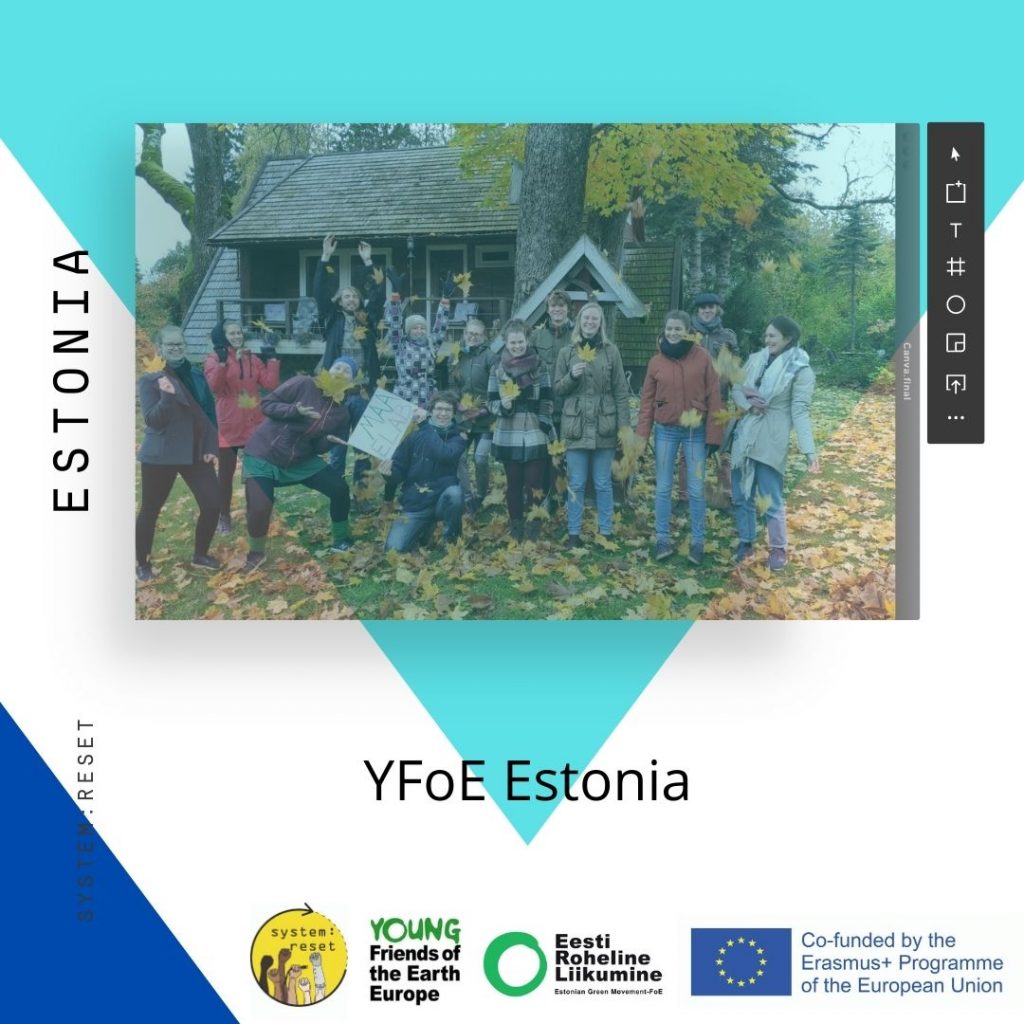 Young Friends of Earth Estonia also Estonian Green Movement is engaged in environmental protection with the aim of improving the situation of the Estonian environment and directing our society to a green sustainable way of thinking.
The Estonian Green Movement was founded in 1988 – this was primarily due to the need to better coordinate the efforts of environmentalists in winning the so-called phosphorite war; at the same time, the movement became the first formal political alternative to the communist party in Estonia. In 1991, the political wing separated from EGM (later the Estonian Green Party).
At present, the Estonian Green Movement deals with various environmental issues in 3 major thematic areas:
Energy and climate
Phosphorite and minerals
Economy and consumption
Our goal is to protect the environment of Estonia and, more broadly, the entire globe, and to implement various measures to limit further destruction of nature and to find new alternative methods to existing unsustainable technologies.
Ireland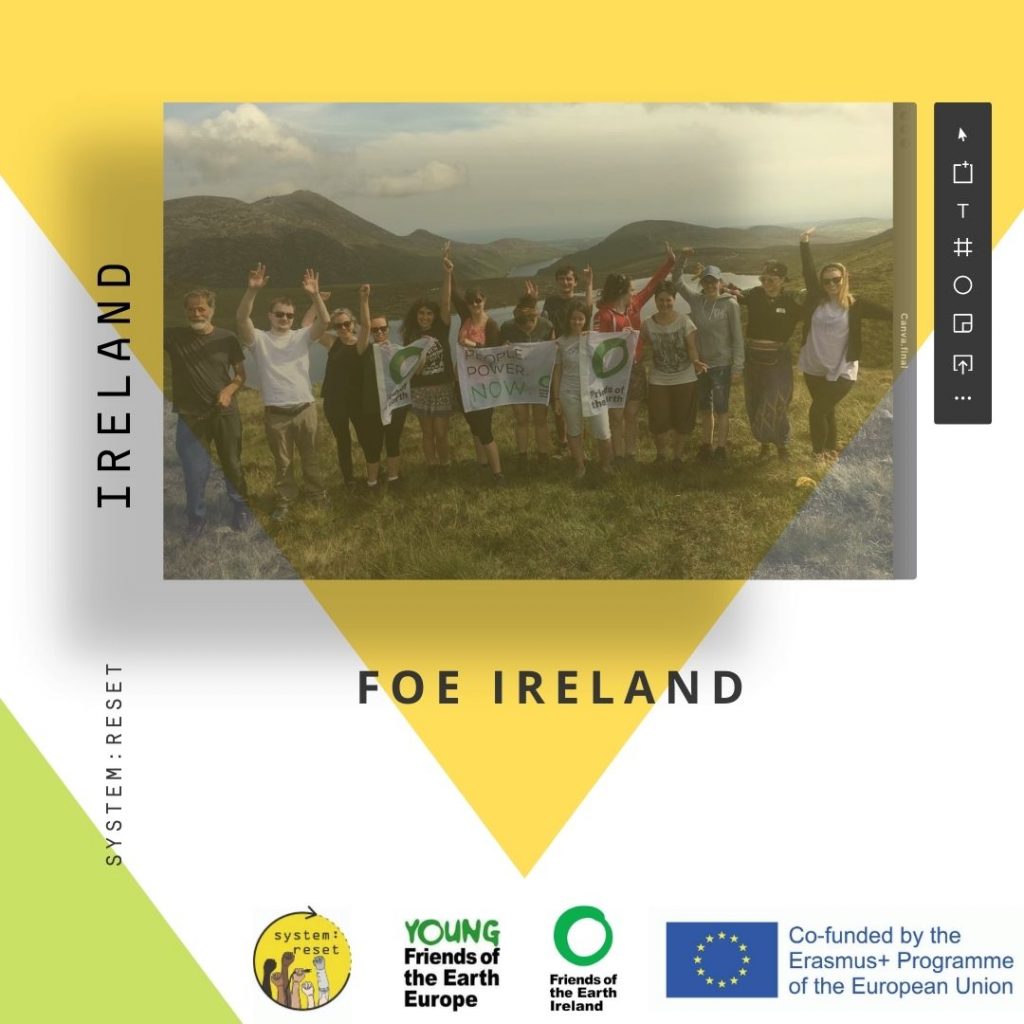 Friends of the Earth Ireland has been working campaigning for environmental justice since 2004. They are a small, but rapidly expanding team or 10 who are campaigning and building movement power to bring about the system change we need for a just world where people and nature thrive.
Their role is to support people to come together to transform our world until #socialjustice is the foundation of resilient and regenerative societies that flourish within the ecological limits of our one planet.
They have particular experience in participatory education, campaign strategy, shaping public debate and driving policy change.
They are committed to joining forces with other organizations and networks, of diverse experiences and perspectives, to build our collective power. They support people and groups working autonomously to connect their local work to the bigger national and international picture. They work with others to try to make sure their focus is transformational change, often by creating moments that exert maximum pressure on decision-makers.
North Macedonia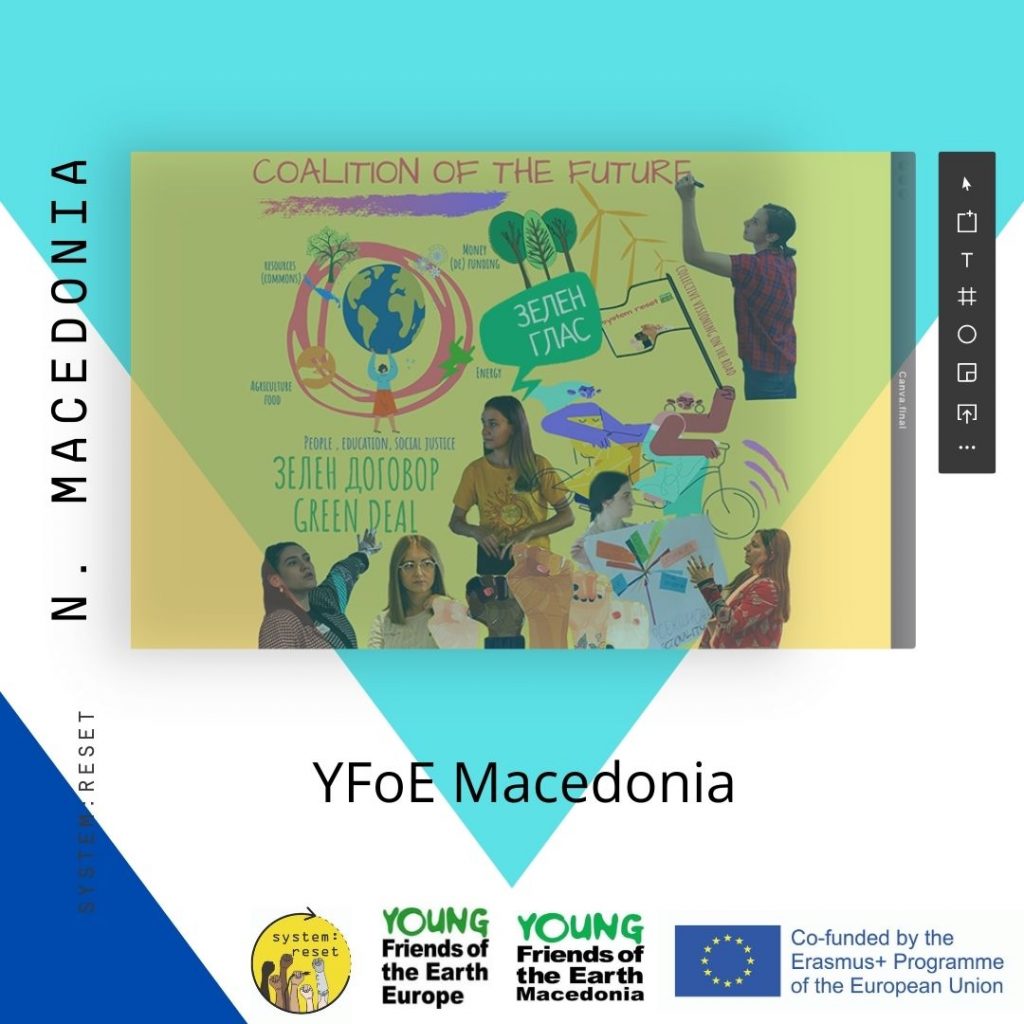 Our friends from North Macedonia, Kolektiv Z, are working towards achieving sustainable and equitable societies and protection of the environment!
Starting with the creation of a safe space and capacity building arena for young people, soon they have gotten to a place where we are structuring a platform for identifying all the different societal problems and deriving inclusive solutions to them that will help them build the system change we all want to see!
Also, they (and we do too) strongly believe in cooperation and building alliances, so they have been strengthening our work with other youth and social justice groups, activists, experts and individuals within their country in an effort to build a collective response to the environmental, economic, structural and political struggles we face.
So, this is how the 'Coalition of the Future' grew up working and acting upon jointly in different spheres such as agriculture and food distribution, the commons and the managing of the societal resources, the energy system and its decarbonisation reforms in education, the transformation of the current economic model and finances.
To strengthen this framework even more, they are going to create a Digital Participatory Democracy Platform, called Zelen Glas (Green Voice), to coordinate and help direct the discussions around drafting a national Green New Deal, and collect and put forward solutions around remunicipalisation of resources and reclaiming the commons.
Malta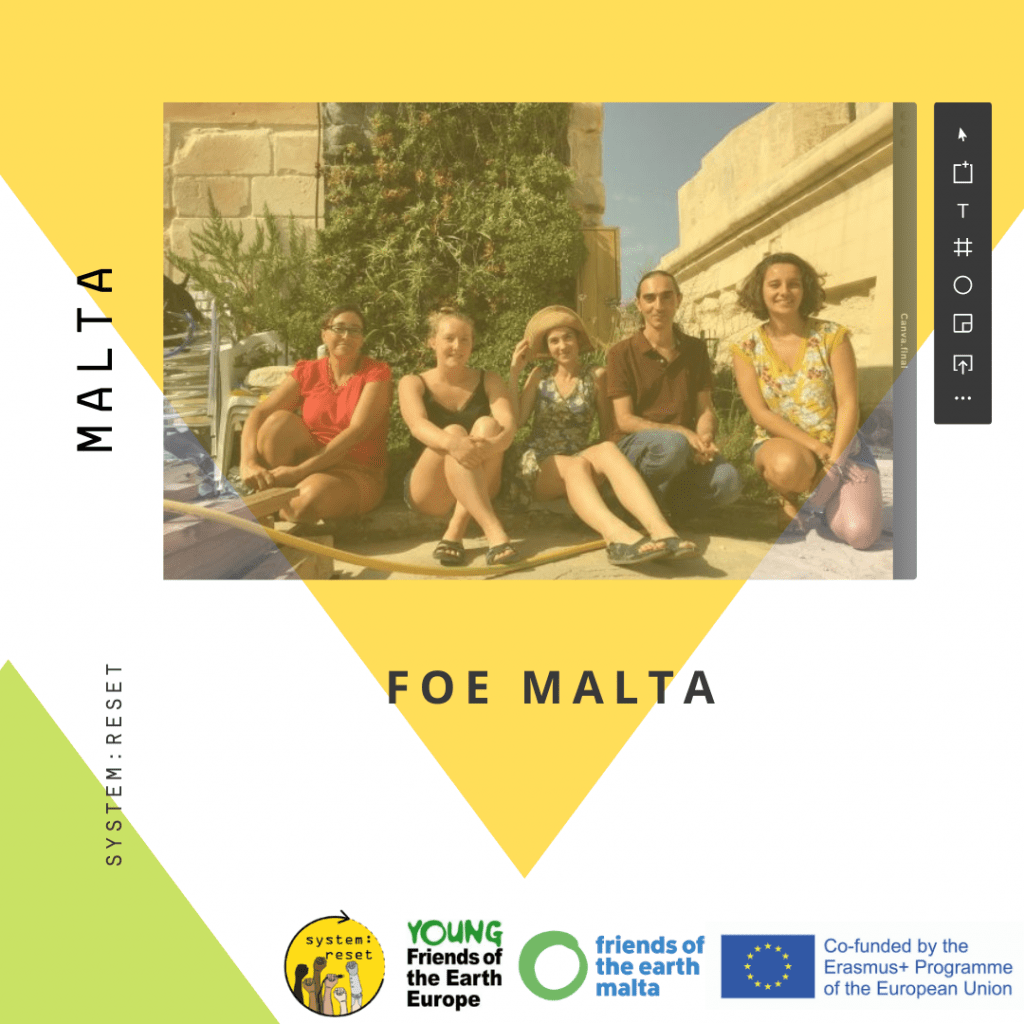 The Maltese group of our networks has a small but strong team, which stays active by engaging the public through projects and activities. They create and participate in projects to raise awareness on national, EU and international issues, and to make people a part of the decision-making process!
Their work revolves around advocacy, by regularly participating in national demonstrations, lobbying for policy changes, disseminating information to the Maltese public, and also contributes to transnational campaigns.
In May 2020, they launched two Working Groups on climate change and on food, agriculture and biodiversity to give a space to citizens, to talk about a subject they are interested in so that they can debate and be involved for a cause they support. This is also a part of their will to build a strong community that is given a voice to make things change.
As part of System:Reset project they are collecting young people's visions for the future. The goal is to open discussions to all the youth interested in environmental and social justice especially with who feels like their voice is not heard and can't express themselves in society.
Spain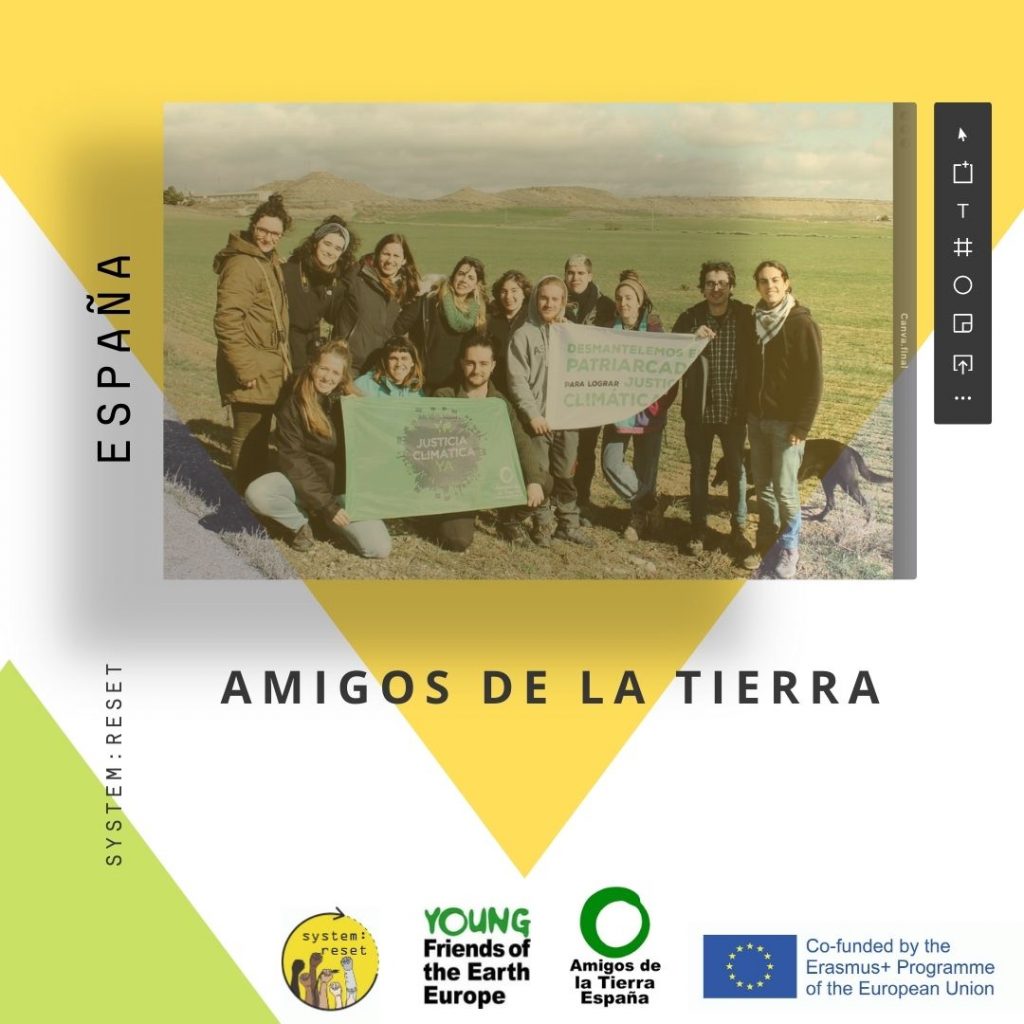 For years they have been working to apply the youth vision in our local groups, with which we do much of our activity.
Although they have more areas in the association, they are mostly focusing on food sovereignty since they have great concern about how depopulation and the food industry are destroying their rural environment.
YFoE Spain also works a lot on ecofeminism, because there is no #climatejustice without gender justice.
They are one of the 10 partners of the System:Reset project, thus, they are working on Green Deal for Europe, trying to apply that framework in their activities and meetings, and weaving networks among other grassroots groups, because as they said: 'We want a change, and not climate!'.